Eric Turner
PhD Candidate - ABD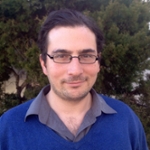 Email: 

Office: 

SSCI #1057
Research Interests
Social Movements , Global/Transnational Sociology , Political Sociology , Organizations , Labor
Research Statement:
Social movements, protests and political struggles in contemporary US and Western Europe. My PhD dissertation seeks to explore issues in mobilization and repression in the Occupy Movement. In the recent past I have carried out research on other recent anti-establishment movements, including the 5 Star Movement in Italy, the austerity protests in Greece, Spain and Portugal and the unemployed protesters in Argentina. In particular, I've looked at the role of online tools in facilitating the 2011 protests, as well as the role of ideology and leadership. I am also passionate about current and past issues in political and sociological theory, and the historical development of research in contentious politics and social change.
Profile:
I was born and raised in Turin, Italy. After a brief stint in Switzerland, I moved to England to attend college, where I received a BA and an MA. I lived in Colchester, Essex for most of my time there and, during my last two years there, worked for a small human resources company and briefly studied law. I moved to the US in 2009, living briefly in Boston, taking part in the G20 protests in Pittsburgh and working for Tripadvisor. In 2010, I was accepted for the PhD program in Sociology at the University of New Mexico.
Recent/Select Publications:
Turner, Eric. 2013. ''The 5 Star Movement and its Discontents: A Tale of Blogging, Comedy, Electoral Success and Tensions'' Interface: A Journal for and about Social Movements. 5.2: 178-212.
Turner, Eric. 2013. ''New Movements, Digital Revolution and Social Movement Theory'' Peace Review: A Journal of Social Justice. 25: 376-383.
Turner, Eric. 2012. ''The Grillini in Italy: New Horizons for Internet-based Participation and Mobilization'' Social Movement Studies. 12.2: 214-220.